What is the iRig? The iRig HD 2 is a digital audio interface.
What is a digital audio interface? A digital audio interface can be compared to an external audio card for any computer that does or doesn't have one integrated.
Let's make a comparison to understand.
A digicam translates captured light into 0 and 1 for the computer to process and store. A video card outputs a signal that translates 0 and 1 to an actual image that can be shown by a screen.
It is the same thing with a digital audio interface. It translates the sound of the actual world, or at least as it is captured by an (analog) microphone into 0 and 1 for the computer to understand and process.
Why the need for a digital audio interface for my violin?
Unless your computer has a dedicated (or integrated into the motherboard) sound card, you need a digital audio interface. Discrete sound cards used to be an option when you bought PCs and Macs (tower form factor ones). But now that most computers sold are notebooks, if not ultrabooks, sound cards are less common, we could say, they have somehow disappeared.
We all use all these little devices: iPads, iPods, iPhones, smartphones, tablets, notebooks, ultrabooks… And we want to make music with them. But our instrument speaks a foreign language to our device. Here the digital audio interface comes in: it is a translator.
I have explained how a digital audio interface works in that blog post. But let's remember that the more it can process the sound in more samples and real-time, the better the sound. It needs computational power to be able to translate the sound quickly and effectively.
We'll see that, for a very affordable price on Amazon, the small IK Multimedia iRig HD 2 has that power.
If you want to, you can jump to my sample sounds: I have plugged my Yamaha SV100, and here is the result.
The iRig HD 2 unboxing
There is a small packaging and the iRig comes with two cables: one micro USB to lightning (iPhones) one micro USB to USB for Macs or PCs.
It doesn't need a battery as it is powered by the USB port of your device (iPhone or Mac).

The device itself is very compact and light: I couldn't imagine it would be so powerful with such a tiny form factor.
It comes with a microphone or stand-mounting velcro strip for you to bring for any live gig.
There is some paperwork as well. There is a registration card. If you register your product, you can download your free apps: amplitude 4 for PC and Mac, Amplitude CS for iPhones and iPads, and now Amplitude 5 SE. It is a well-deserved reward after the tedious process of registration.
Apart from the registration card, the device comes with:
a quick start guide,
a user manual.
You can download them from the manufacturer's website here.
There are not many differences between those two booklets, or pdfs, but they are quite well put together. I will use their logic (no pun intended) to structure the rest of this post.
iRig HD 2 audio interface characteristics
HD in iRig HD stands for high definition, and, if we compare it to an image, the sound translated is not "pixelated". It is crystal clear, or supposedly so. The audio-processing engine is quite powerful:
24 bit analog to digital conversion,
96 kHz sample rate.
These characteristics are key if you want a good sound. And it is pretty sweet that they can be packed in such a small device.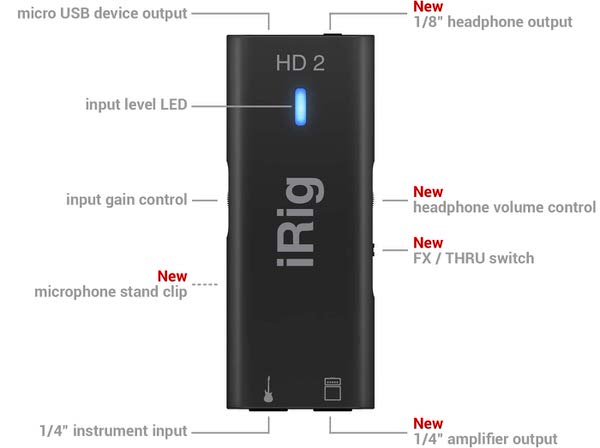 Input / Output for the iRig HD2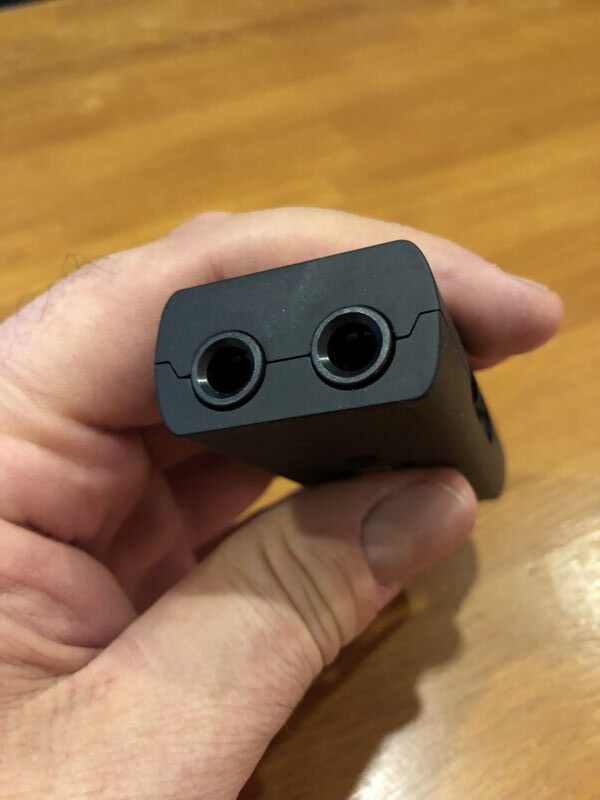 It comes with a micro USB cable to USB, it has a 1/4″ inch input jack.

I have ordered this cable to be able to plug it directly into my USB C only Macintosh. If you own a micro-USB to USB C cable already, it will be really helpful here, as you won't have to use a dongle.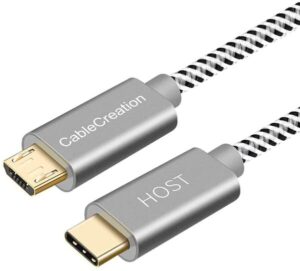 How to use the iRig HD 2 audio interface with an electric violin
Plug your electric violin into the 1/4″ jack input. You can hold the iRig on your belt and it is very light.
The Yamaha SV100, SV120, SV130 come with a 1/8″ stereo jack output,
The Yamaha YEV 104 comes with a 1/4″ mono jack output,
The professional SV200 series (SV200, SV205, SV250, SV255) come with a 1/4″ mono jack output plus a balanced XLR output for sound systems.
So if you can use a standard big and sturdy 1/4″ jack in most cases. If you have an SV100 like me, here is what I have bought to eliminate the need for a heavy adapter: a 1/4″ mono to 1/8″ stereo jack.
Now that your violin is plugged into your audio interface let's see what we can do with the other end.
1. You can use this audio interface to use headphones with your electric violin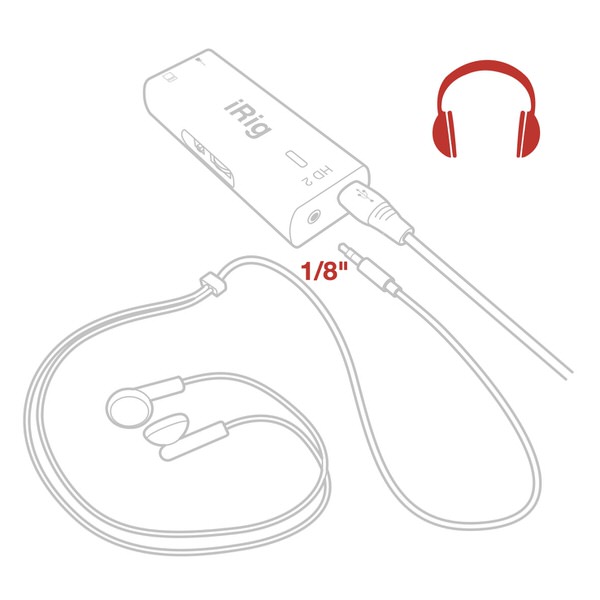 If your violin (or guitar) doesn't come with a headphone jack, this is a great way to play and practice at home with headphones on.
The Yamaha SV100, SV120, SV130 come with an input stereo 1/8′ headphone jack,
The Yamaha YEV 104 doesn't come with headphones input,
The professional SV200 series (SV200, SV205, SV250, SV255) come with an audio box where you can plug your amp, sound system, and headphones.
So if you have a Yamaha YEV 104 violin, you will need an audio interface to plug your headphones (or an amp with headphones input).
I usually play with my headphones directly plugged into my violin. But remember that you can't just play with the audio interface plugged into your violin because it will lack power. You still need to have it plugged at the other end into a computer or phone to get power out of the USB port. But, by using the iRig, you will benefit from all the included effects and amp presets.
The big blue led gives a clear indication:
that the interface is plugged in and gets power,
input levels (green, yellow) to adjust without the need for external software and check wether the level is within good range.
What you don't want to do, though, is to listen to your violin through Bluetooth headphones connected to your Mac or iPhone: the latency is terrible and you just won't be able to play. That is why the correct way to use headphones easily (and cheaply) is to plug wired headphones into the sound interface.
The interface serves as a preamp and can adjust the volume for the headphones. That means that you can use high impedance headphones and get great sound out of your iRig HD 2 while practicing or recording.
2. You can use the iRig audio interface to plug your electric violin into your iPhone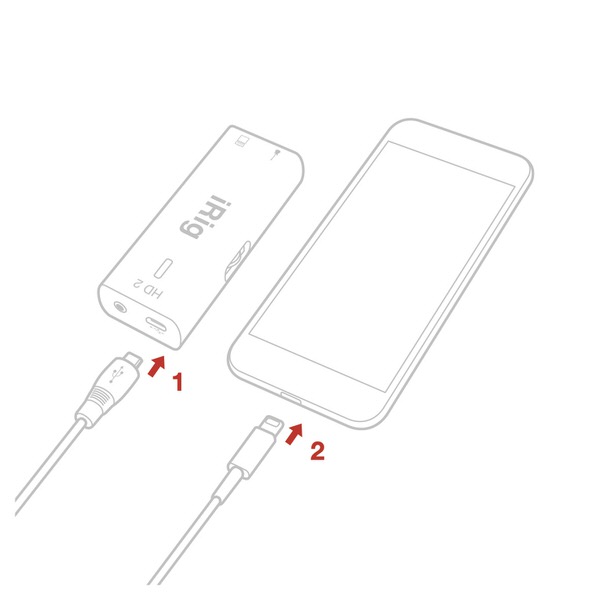 It is quite convenient to have your violin connected to your phone. You can tune your instrument, practice with a metronome or get the advantage of all the guitar sounds, effects, and sounds that you will get (or buy).
3. You can use the iRig audio interface to plug your electric violin into your computer
I have described extensively how to connect your electric violin to your Mac in this blog post, and your iPhone in this one. But this is how to do it in a nutshell.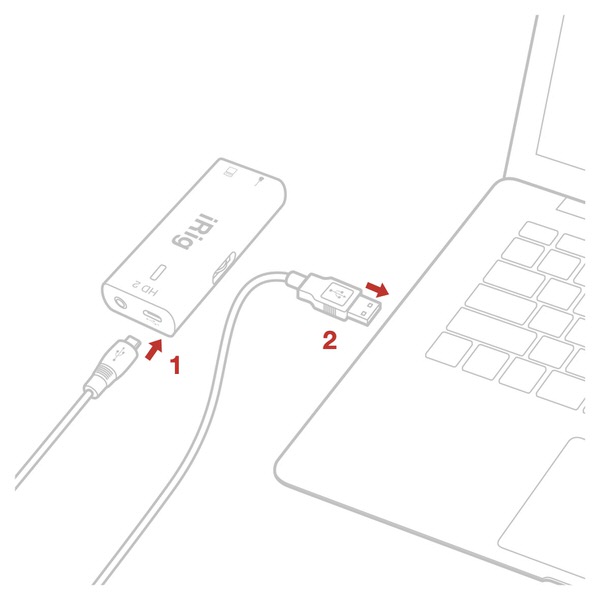 Just plug your iRig into your computer: it will get power immediately. Adjust the output volume: it is important not to saturate the sound and go into yellow, or worse, red territory. Remember that you can first check on the iRig led itself. Then, you can adjust your sound inside your software (Audacity or for example GarageBand). By doing so, you will get as good a sound as possible.
You can hear yourself through the PC or Mac, and record yourself if you want as well.
For example in Audacity, select the appropriate input for recording (next to the microphone icon):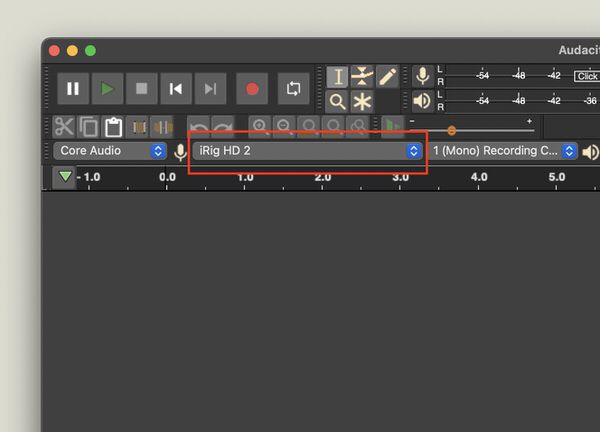 These are the recommended presets to record your electric violin into Audacity. Make sure that, in Preferences > Quality to select "Default sample rate": 96 000 Hz and "Default sample format": 24 bit. Otherwise, you won't take advantage of the quality of your iRig HD 2.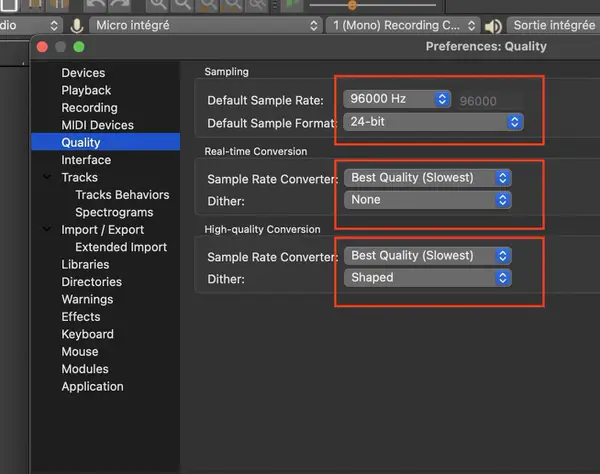 For example, in Garageband, you can select the iRig as the input of choice to record your instrument. You can take advantage of all the effects and amp settings provided with the software to spice up your violin sounds.
When you create a new project, select "Connect a guitar or bass to your mac" as shown below. You won't be proposed "Select your great electric violin", but it will work perfectly, I can assure you!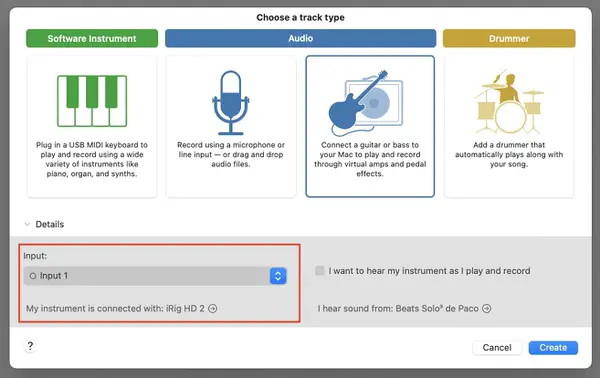 I don't check "I want to hear my instrument as I play and record" as I find there is usually too much latency.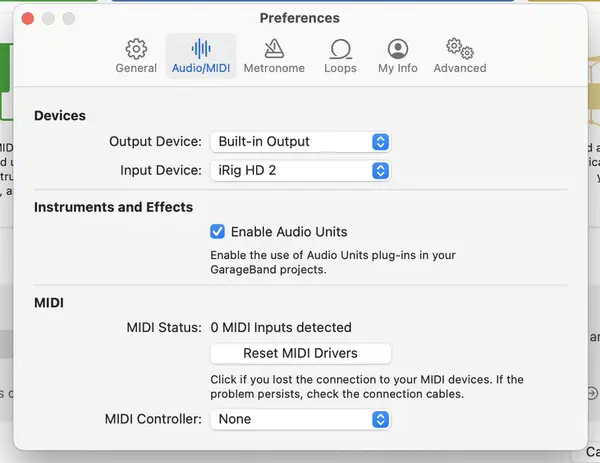 If you click on the little arrow close to "My instrument is connected with" you will be granted with this dialog box, where you can check and adjust in the Preferences of GarageBand the Output and Input device of choice.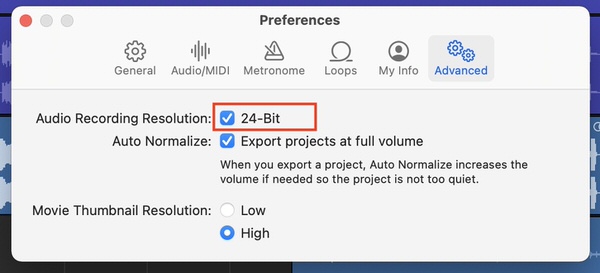 For best results, in GarageBand check that you have "24bit" selected in Preferences > Advanced > Recording resolution. Then, when you export or share, make sure that you select "high quality" where you see "256 kBit/s".
Sound tests and samples for the iRig HD2 and my electric violin
It is important to take full advantage of the 24bit 96kHz capabilities of the interface to have the best sound possible.
I assume you have applied the presets as explained above.
These are samples of my Yamaha electric violin SV100 recorded into my MacBook Pro:
Dry sound on Audacity without effects:
Direct sound with reverb, on GarageBand:
Sound mixed in Garageband with accompaniment, full Blues in C minor mix:
If you want to read more in details frequencies and CODECS when it comes to violin recording, read the following post that I dedicated to electric violin recording.
The gear and products I use and recommend for my electric violin
First, If you want to hear your electric violin, you need to either use headphones, plug it into an amp, or an audio interface.
The small amp I use and recommend if you want to practice at home is the great Yamaha THR10 from the THR series. It is portable and not expensive, easy to use and set up.
If you want to record yourself or plug your violin into headphones, your laptop, or your phone, a good and cheap digital audio interface I can recommend is the iRig HD2, which is more and more affordable on Amazon.
I typically use Thomastik Dominant strings on my electric violin. They come quite cheap on Amazon considering their quality and sound. Synthetic core strings work well on Yamaha electric violins.
Lastly, I use mainly Dominant rosin as well on my electric violin, as it has been designed to go with Dominant Strings.
You can check out in detail all the stuff I have tested and used on my recommended product page where I go into more details.