Top 11 Best Violinists of All Time (with videos)
These are the best of the best, the crème de la crème. I wanted to share with you the violinists I love. They have accompanied me throughout my life and career. Of course, choosing is hard and cruel. So I will present many other violinists to you, later on in my blog. But these "11 best violinists of all time" have certainly laid the foundation of the music we know and love today. Enjoy.
1. Nicolò Paganini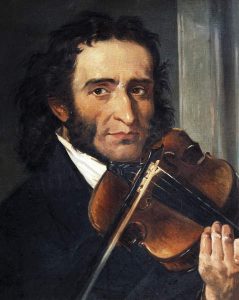 He is perhaps the most well-known violinist of all time. Everybody has heard his name somehow. Paganini was incredible in many respects. Not only was he an astonishing virtuoso, but he was the first "guitar hero" of history.
He invented a new technique for the violin,
He was aware of the mythical aspect of his career and used it to his advantage (devilish technique, contract with the devil),
He made himself scarce, his concerts were incredibly expensive, he toured Europe at a time when it just wasn't done (violinist as a guitar hero, a kind of Jimi Hendrix before his time!)
He sold violins and bows: he used his fame to sell products he exported from Italy to the rest of Europe. He was a true businessman.
2. Jasha Heifetz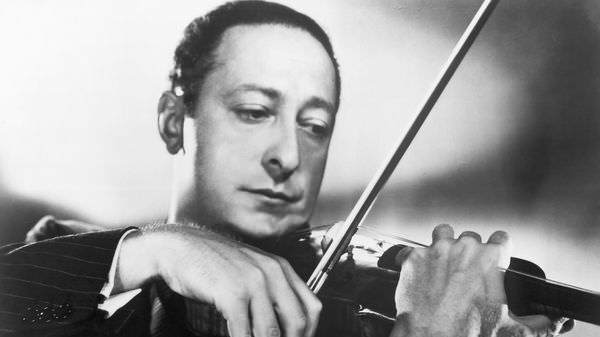 An incredible man. He wasn't a composer strictly speaking but made many tasteful arrangements that are still played today.
Paganini reinvented violin technique, but Heifetz has brought it to a new height of perfection.
He is the first and maybe pinnacle of the Russian School of Violin playing that Russia (and later USSR) gave to the world.
Soundwise, he was among the firsts to use steel strings, at least for the E string and A string. Together with incredible bow speed (Russian technique) and steel E, he had an incredibly bright, loud, and shiny sound that filled the world's concert halls. That sound wasn't heard of at his time.
Technically, he again was the pinnacle of the great Russian School. Remember that my teacher's teacher was Leonid Kogan! I have learned many aspects, tricks, and secrets regarding the Russian school that I can share today. So, about Heifetz, it was more than just the legendary Russian bow hold (from the beginning of the 20th century, as Russian bow hold has changed since then) and light speed fast bow speed that gives incredible sound projection. It is about the psychological preparation for violin playing. Heifetz seemed cold and was said to be cold when playing: it is because he had a "poker face" and didn't move anything that wasn't important for the music, for the sound. His gestures were minimalists. I won't develop it in detail here, but it has to do with what great Japanese masters call Zen. The performer must disappear and be transparent to the music, to the technique. So Heifetz had developed a flawless transparent technique: he is the father of the 20th century way of playing. A narrow vibrato, he didn't slide much. He didn't indulge himself in wide portamento or rubato (that means sliding and changing tempo during a tune). He interpreted the 20th-century repertoire with rock-solid performances.
3. Yehudi Menuhin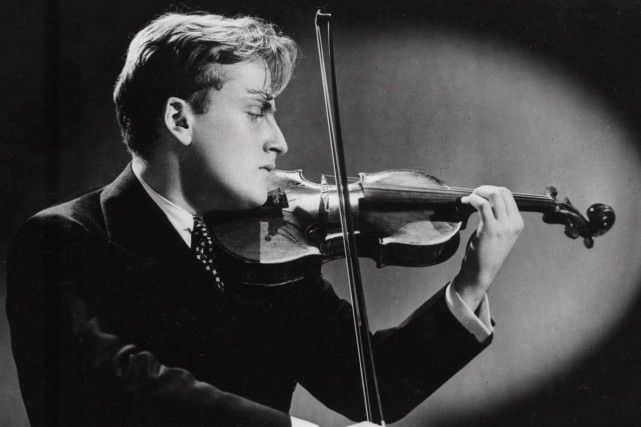 It is difficult, or I can say impossible, to rank violinists of that caliber. But for the sake of this exercise, I put Yehudi Menuhin in the third position, but it could have been easily at the second one, I beg your pardon. As Heifetz was brilliant, Menuhin touched the heart of the whole world. Yehudi had an incredible technique, but Bush and Enesco taught him in a more musical-oriented manner.

He is THE child prodigy. As a child in shorts, he played with the world's best orchestra (Berlin Philarmonic), the most challenging repertoire (Bach, Beethoven, Brahms). After listening to the young Menuhin, no one else than Albert Einstein said: "I know there is a god in the sky." That's how powerful his playing was. Not only did he play incredibly well for a child, but his sound and interpretations surpassed the best violinists of his time. His vibrato was the most heartfelt ever heard, a human voice. His legendary vibrating slides and portamento were human. His technique was utterly natural — he later suffered from that in his career. As a grownup, he believed that he could play a role in the world for peace between the people. So he fought for a better world with his violin. Because of that, he was maybe the most well-known violinist among the general public.
4. Antonio Vivaldi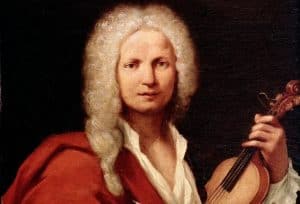 Vivaldi is my pick for the Baroque Era. But don't let the "Baroque" naming fool you: Vivaldi's music is alive, powerful, full of beauty and energy. It is another bigger-than-life musician, both a violin virtuoso and one of the best composers of all time. He was better known for his violin playing during his lifetime, whereas now many know the composer only. He composed nothing less than 500 concertos! Many of them were written for violin so that he could play them himself. He was a true virtuoso with a great sound and taste for melodies. He departed slowly from the counterpoint way of composing, typical from the period, to venture into a more melodic way of playing on top of an accompaniment. He is known to have developed, if not created, the concerto form.

His more well-known pieces are the Four Seasons, a top classical hit, and still today. The virtuosity of the fast movements contrasts with the pure and bare beauty of the melodies, flying on top of the orchestra, in slow movements. I have selected Fabio Biondi's famous interpretation.
5. David Oistrakh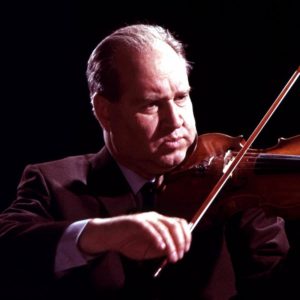 I have chosen the great David Oistrakh, King David, to represent the best of the Russian School of violin playing for the 20th century.
David wasn't a child prodigy: he worked hard, practiced hard until he won the Queen Elisabeth competition that brought him fame. He was beyond technique, and his gestures seem so easy and natural. He had an incredible tone, a great voice like vibrato. His bow technique is unparalleled. He is pretty versatile, of course, as his talent is enormous. But he is at his best in the great Russian concertos: Tchaikovsky, of course, but more importantly, the 20th-century repertoire: Khachaturian, Prokofiev, Glazounov, Shostakovich… His modern, sometimes brutal, spiccato flourished and suited perfectly the hardness of this post-war repertoire. He toured the world out of USSR and presented the west with an incredible repertoire interpreted to perfection. He premiered several great concertos written for him, among which Shotakovitch #1.

As Heifetz, Oistrakh played with a 'poker face' typical of the Russian transparent technique. He only moved what was necessary. Together with Leonid Kogan, he developed the Russian school with pupils like Gidon Kremer (Oistrakh) Victoria Mullova (Kogan).
6. Maxim Vengerov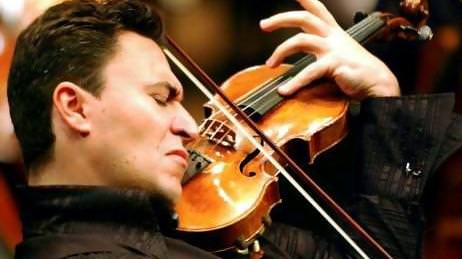 I had to choose a contemporary violinist on that list. And it's hard as there are so many of them playing wonderfully today. Only time can tell if a musician belongs to an all-time greatest. That is the proof of how vain can be such a list: but let's play the game we've decided to play until the end.
I've long hesitated with many other violinists like, for instance, Hilary Hahn, that I love. So I will do the "10 best Violinists of today", I promise.
But I have selected the great Maxim Vengerov maybe with a bias: his style comes from the great Russian School of violin, like my teacher's teacher, Leonid Kogan. And I admire Zakar Bron, Vengerov's teacher.
Anyway, Maxim Vengerov is a child prodigy that took the world by storm. He could play everything with an incredible tone that some found too brutal sometimes. He could play everything, not only show off pieces that suit virtuosos so well. And he matured, and the second part of his career is maybe more soulful, mature, minimal. He is at ease in the incredible repertoire, ranging from the big concertos to less known and intimate pieces.
To say that Maxim Vengerov has a big and full sound is an understatement. I remember the last time I've heard him play. In the second movement of the Tchaikovsky, he played a high-pitched note on the E string with great bow speed. I had the feeling I had the sun on my face. So bright, so pure, so focused.

He used to be very demonstrative, which usually appeals to the audience. He has a lot of charm and charisma. Knowing Bron, this wasn't by coincidence. He knew how to trigger the effects he wanted. Know, as a mature musician after a sabbatical and an elbow injury. He plays differently. He shows a down-to-the-ground Oistrakh-like approach. He doesn't move much unless necessary and presents a "poker face." Does that remind you of someone?
He even decided to study with Rostropovich, with whom he played the Beethoven violin concerto. Rostropovich was conducting.
7. Stéphane Grapelli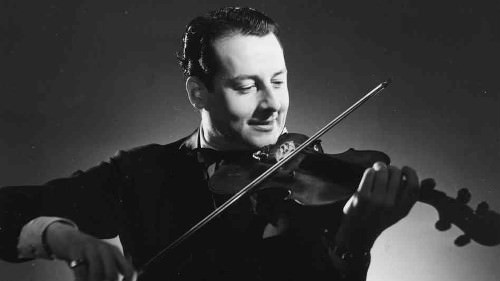 He is the first non-classical violinist on the list. But as Miles Davis puts it: there are only two types of music, good music, and bad music. And the late Great Ivry Gitlis said that there is no such thing as 'classical music.' There is just music.
Stéphane is a natural player. He played since he was a child both violin and piano. He earned his life early on, accompanying silent movies every night on the piano. He developed a great sense of improvisation. Indeed accompanying a film allowed him to change moods, atmospheres, tempos, and much musical onomatopoeia: descriptive music. I certainly would have loved to watch a Buster Keaton with Stephane on the piano!
He later played mainly the violin. Every night in clubs, cafes, and restaurants. How not become a natural player when you spend your entire life playing as relentlessly as breathing?
He met the immense legendary guitarist Django Reinhard, with whom he formed the Quintette du Hot Club de France, one of the most legendary jazz bands of all time. His playing is magical: relaxed, swinging, a natural flow with never-ending singing intricated melodies. And he had a great diva-like vibrato. For a jazz violinist, pardon me, his intonation was flawless.
He played with the best jazzman on planet earth.

He had a long career, and when his style became somehow outdated, he went on relentlessly and played every night in small clubs and restaurants… But again, his genius was recognized as ever-lasting, and he had a great late career in his eighties and nineties. So, on top of everything, he gives us an incredible life lesson. Moreover, he has established himself as the leader of the great tradition of French jazz violin, of which I am part, somehow, with Didier Lockwood and Jean-Luc Ponty. Every jazz violinist of the world adores him. He earned great respect from the great classical virtuosos of his era, including Yehudi Menuhin, with whom he played and recorded an album.
8. Eugène Ysaÿe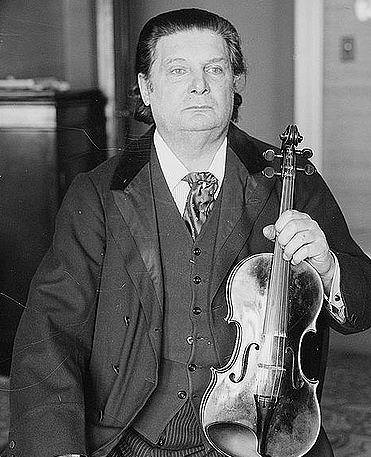 He is maybe the best representative of the Great Franco Belgian school of violin playing. He brought Paganini virtuosity and technique to new heights in a more modern and updated way. More importantly, he was a great violinist and composer. His most well-known work, the 6 Sonatas for Solo Violin, laid the mark for a new way of playing. He was an impressionistic composer and player. He gave incredible atmospheres as artists did at the beginning of the 20th century in painting and literature.
He became Belgian Queen Elisabeth's best friend and violin teacher; they created the Queen Elisabeth violin competition together. After that, he went on to direct the Cincinnati orchestra.
All the best violinists of his time came to him for advice.
He had a rock-solid technique with a larger-than-life tone.
He composed the six sonatas for solo violin. Each sonata was dedicated to his time's best violinists and at least preferred ones, including Joseph Szigeti, Jacques Thibaud, Georges Enesco, Fritz Kreisler. He also composed an opera, several Sonatas for violin or cello and piano, and many poèmes for violin and orchestra.
As he lived until 1922, there are rare recordings of the Maestro, some of which are available on Youtube. As he's been recorded at the end of his life, some say he wasn't at the peak of his career. That's for sure. But it gives a rare insight into his style and interpretations.
9. Pablo de Sarasate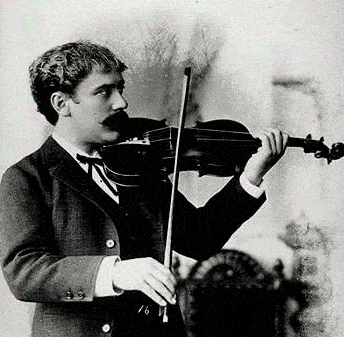 I couldn't help but select Pablo de Sarasate, this incredible violinist from Spain. He was a violinist composer from the end of the 19th century, and his work is as well known from a composer's standpoint as it is from a violinistic one. He studied at Paris Conservatoire and won the first prize.
As a violinist, he was dedicated to some of the best masterpieces of the time, some of which he premiered: Lalo's Symphony Espagnole, St Saëns' Introduction, and Rondo Capriccioso, Wieniawski's Violin concerto #2, Bruch's Scottish Fantasy…

As a composer, he composed more than fifty works. Maybe the most well-known are Zigeunerweisen (Gypsy Airs), Malagueña y Habanera (Spanish Dances), Fantasy on Carmen (Bizet). His tone was pure and straight, his virtuosity effortless. So many great violin pieces wouldn't exist if it weren't for him. We owe him a debt of gratitude for such a great legacy.
10. Fritz Kreisler
He embodied pre-war Vienna. He was one of the sweetest and cozy violinists, perfect for chamber music, where he excelled. His style was exquisite, and his phrases were full of charm. There are no schools to teach to play like Kreisler; it has to be felt. As Perlman puts it, "What makes or breaks a Kreisler piece is the pace." And Yehudi Menuhin himself confessed that it was hard for him to interpret Kreisler compositions in that particular Viennese style full of charm.
Born in Austria, he lived in the United States, and more precisely, in New York.
He wasn't the most technically challenging violinist, but he certainly had magic in his style.
He composed many pieces for violin and piano or violin and orchestra. These miniatures are exquisite in the Viennese style.

He was a top performer as well and recorded many major concertos from the repertoire. His recordings are intriguing in many aspects. Some of which are crucial: they give a great insight into what was done musically in the earlier part of the 20th century and, indirectly, how composers themselves wanted their music to be played. Kreisler met the most significant composers and performers of the beginning of the century and gave back his priceless knowledge to the younger generation.
11. Dr. L. Subramaniam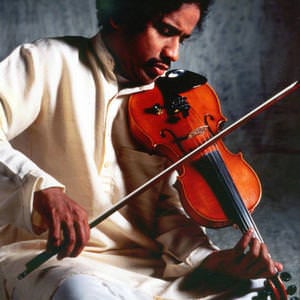 I still remember today the first time I've heard Dr. L. Subramaniam. What a shock! As a classically trained violinist that has ventured to jazz and rock, I couldn't believe what I've heard. At that time, I was living in London. I went straight to the Indian Institute of Music (I don't recall the exact name) and took Carnatic violin lessons. I bought books on classical Indian music in that institute and learned how to tune my violin. I got great inspiration from Subramaniam that influenced my improvisation somehow, until today.
Subramaniam is the pinnacle of Indian Classical music. That is another world entirely.
He can play western classical music as well as Indian. He usually plays on a five-string electro-acoustic violin.
His tone is full and obsessive. He gets little to no bow noise. His intonation is immaculate. His lines draw complex questions and answers, arpeggios with repetitive root notes: ostinatos.
If I dare to describe a typical Carnatic tune, the whole piece unfolds in a constructed and symmetrical macro-structure where parts are poetic while others are rhythmical. Subramaniam plays like a human voice. Many microtonal slides give his music a hypnotical flavor. Then he puts the listener under pressure in rapid rhythmical and virtuosic passages.
Carnatic music takes the listener on a magical journey to foreign sounds. Like a big wave, a twenty-minute tune takes you and leaves you eventually at the end of that journey, quiet, still, and reflective. You don't have to understand everything to love Subramaniam as you don't have to know how a Boeing works to fly the world: just trust the pilot.
Subramaniam is still active today: playing and teaching. I've found it hard to select a piece for you to discover that legendary musician. But here you go: close your eyes, let go and travel.