A Complete Test of Yamaha Silent Violins: the SV-100 Series and YSV104
It is the violin where it all started: the Yamaha Silent Violin SV-100. I was there at Lavillette Music Show in Paris back in 1997 when it launched and bought it straight away. So it is the first iteration of this great SV series (SV stands for Silent Violin, of course).
Later, Yamaha enhanced and improved this violin with further iterations that I will test in this blog. Yamaha even departed from this silent violin philosophy that focused on classically trained violinists. They ventured to electric violin territory and assumed that new philosophy of products.
Sure, at that time, electric violins existed. Still, they were more single-crafted instruments made by dedicated luthiers than off-the-shelf global distributed instruments, as only Yamaha can do it. I had tried good electric violins by that time, but the Yamaha SV-100 made me switch.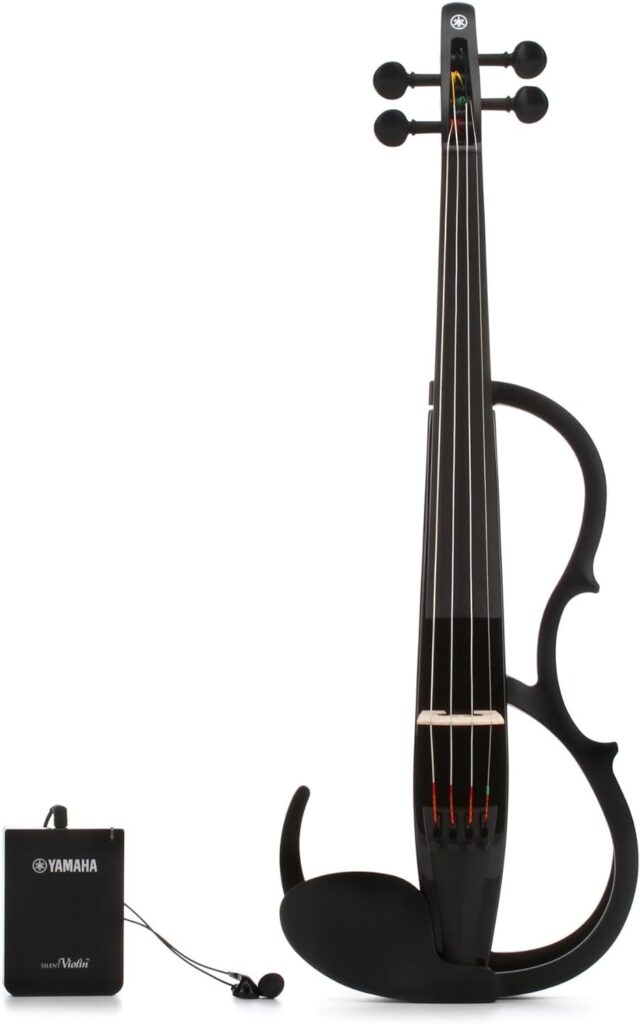 Since then, I have played that instrument a lot, from long hours of practicing in my little flat close to Marble Arch in London to all the clubs where I could play jam sessions and concerts either in jazz or even blues. That violin was out every night, every week from Thursday to Sunday, and I can tell it was road-tested and approved: I will develop all that in that post. Sadly, Smartphones and even digital cameras didn't exist back then, and I don't have pictures of all those (great) years.
The original SV-100 Yamaha electric violin is still beloved in the community of string lovers. But it has been discontinued by the mother brand. As Yamaha put it: the YSV104 series returns to the original concept of providing an accessible silent violin to practice to anyone without breaking the bank, without compromising on quality.
Price: Yamaha SV violins offer good value for money

At less than $800 price point, Yamaha SV series have always been an excellent value for money. I had played some tailor-made electric violins by luthiers, but they are more in the $2000 to $3000 range. If you are not a seasoned electric violin player and play it professionally, you won't invest that amount of money just to try one out.
I used to play my acoustic violin with a microphone (I will detail that later), and as soon as I tried the SV Yamaha electric violin, or rather called Silent Violin, it made perfect sense. Many people can test the water with this violin; if you eventually want to sell it because you are somehow disappointed, it will have a resale value. A cheap electric violin will surely give you dissatisfaction and no resale value. So the SV Violin has proved once again that Yamaha is a trusted brand.
Check how cheap Yamaha Silent Violins have become now on Amazon. The YSV104 renews with that simple and accessible mantra that Yamaha has proven with the SV-100.
The SV-200 series start north of $1500 and are specifically targeted at professionals or violinists that do not want to compromise at all on quality.
The build quality is good
Specs of a YSV104 and SV-100 series Yamaha electric violins
With the SV series, Yamaha pioneered a solid body violin without a resonant body.
It is only produced as a 4/4 instrument.
| | YSV104 | SV-100 |
| --- | --- | --- |
| Weight | 490g + 70g (control box) / 17.28 oz + 2.47 | 598 g (w/batteries) / 21.09 oz |
| Width | 206 mm / 8.11 " | 190 mm / 7.48 " |
| Length | 583 mm / 22.95 " | 600 mm / 23.62 " |
| Depth | 111 mm / 4.37 " | 80 mm w/o shoulder rest / 3.15″ |
The body is made of spruce, with a maple neck. The pegs are made out of ebony while the fingerboard was made of ebony and is now made of composite material. The tailpiece (and the nut) are made of hard synthetic resin. I didn't have a problem with these; they are remarkably sturdy. The tailpiece is glued to the body, transferring vibrations there.
The 'frame' of the instrument is made of plastic, as well as the chin rest. That plastic is rugged and durable but does not feel premium. My SV-100 is still in pretty good condition, and those plastics didn't break nor become too scratched over those years. So it is an excellent testament to the durability of this instrument's construction and design.
The frame now forms a round shape at the bottom of the instrument. You can then use your existing shoulder rest.
YSV104 Instruments now come in four colors: brown, black, and red. And each is gorgeous: I do not know which one I prefer.
Reflexions on aesthetics of an SV Yamaha violin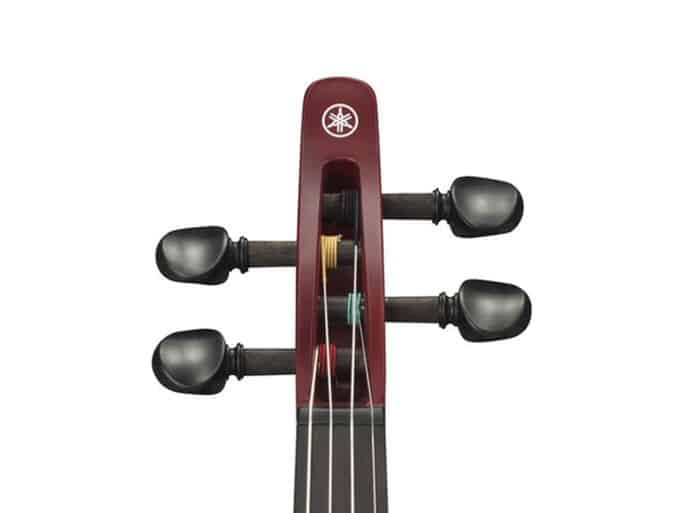 Sure with that new line of violins, Yamaha did break the rules of violin making. So they went far but retain inspiration from the original shape in a fine way, I suppose. Some makers went as far as removing the scroll and the pegbox, which Yamaha didn't. They even kept a frame to remind the beautiful shape of a traditional acoustic violin and give a reference point to the left hand when shifting.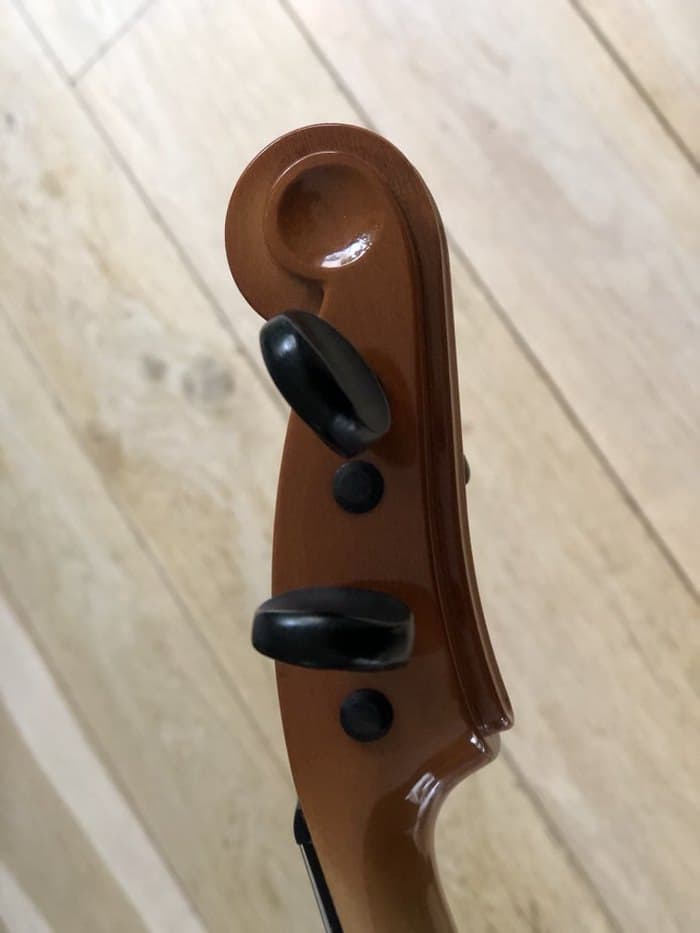 I consider it essential to have a frame on an electric violin to keep the reference point to shift positions with the left hand.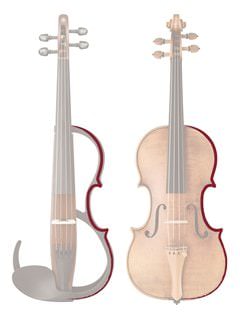 As I have explained in length, the violin is such a complex instrument that if we lose the frame, we face new technical difficulties that we shouldn't. The way the great Masters have told us (Yvan Galamian, Carl Flesh, Yuri Yankelevitch) is to have the instrument's body as a reference point starting at the third position. Removing this reference or anchor to the hand is making the violin unnecessarily tricky. If you want to play in tune, that is!
The scroll is made of maple and is reduced to its bare minimum, as shown in the picture. I think it looks great. It is a tribute to a heritage of centuries of violin making. For the YSV104, they even reduced the size of the scroll to a bare outline.
The SV200 series have come back to a more traditional scroll. I don't know if it is just a matter of cost, but maybe more a way to come back to tradition and appeal to professional classical players.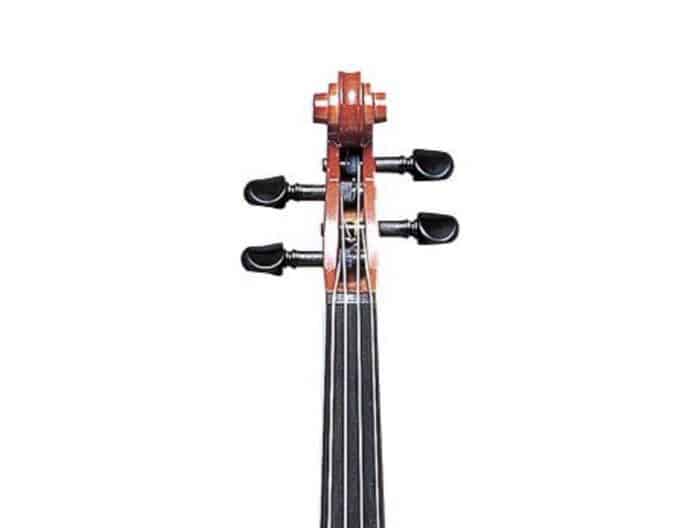 Electronics: how do electronic violins work?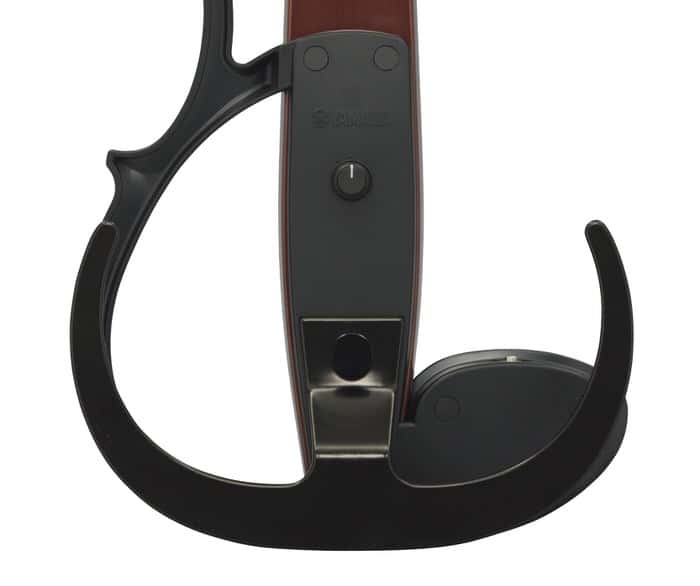 The sound is amplified through a piezo pickup. This pickup was under the bridge in the SV-100 and is now in the bridge for the YSV104. It gives a better sound tone and volume.
In the SV-100, you have batteries in the violin, line in, line out, and reverb adjustments on the violin itself. The connectivity is of mini-jack type as well. We will see that the SV-100 is close to what the SV200 is today.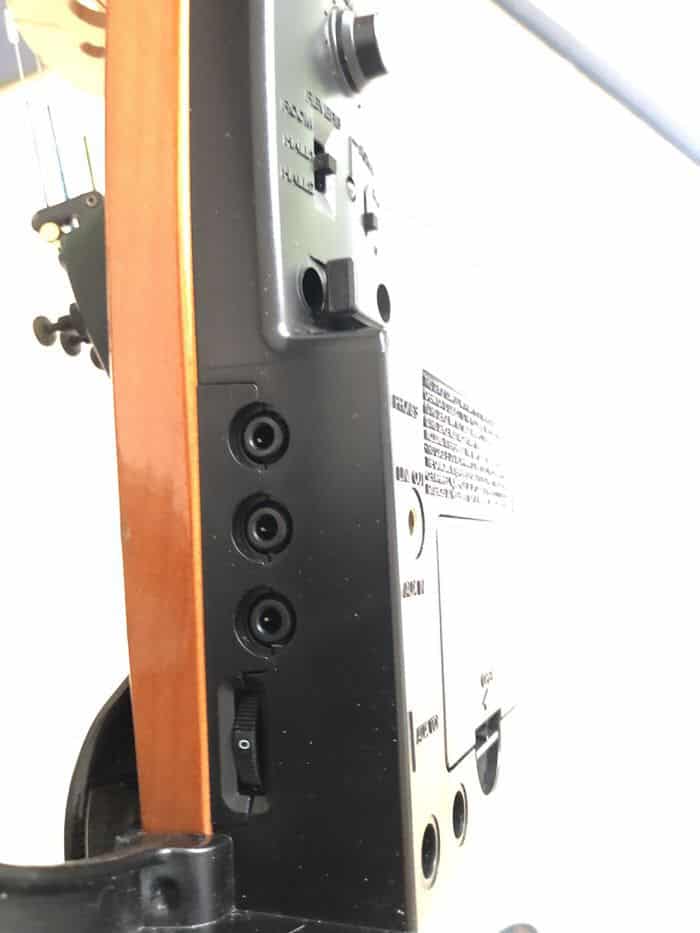 In the YSV104, there is a volume knob under the violin, which provides easy access if you need to while playing. The rest is in the control box. The cable (mini-jack also) that goes from the violin to the proprietary control box has three purposes:
bring power from the control box to the violin,
receive the signal from the violin to the control box,
provide I/O: aux in, line out.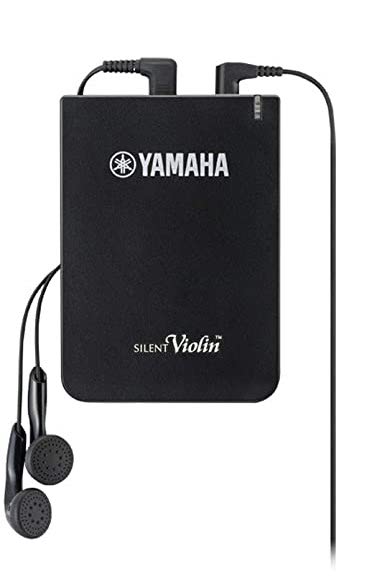 The control box has another volume knob and a Switch that selects the type of reverb you want: none, room, hall.
All in all, the control box gives the YSV104 violin what had the SV100. But these functionalities had a trade-off: weight. Now, the silent violin weighs around the same as an acoustic violin (490 g – 1 pound). It used to weigh more than 100 grams more (3,5 oz)—all that with a box at your belt or pocket, attached with a built-in clip.
Keep in mind that the control box of the YSV104 can't be used with any other electric violin. It is designed exclusively for that instrument. You can damage your violin if you try to plug it into that box if you play another type of brand of electric violins.
To give power to the violin, please use the included cable as well.
I typically practice with headphones but plug in an amp to play. When I do concerts, I plug my Yamaha violin into a preamp, or Sansamp, and then into the venue's sound system. The sound guys always loved to put me straight into the balance without tinkering with sup-par mikes and Larsen.
Overall, YSV104 and SV-100 series violins sound good
Short answer: the sound is good. But what is our point of comparison? What do we need our violin for?
We shouldn't compare the sound of a Yamaha SV violin with the sound of an acoustic violin. There is no comparison possible, as there is none between a Fender Stratocaster and a Spanish guitar.
That being said, the sound is good compared to many electric violins of the same price and up. Yamaha has 25 years of experience in that field, and you can hear it. With its built-in piezo microphone, the sound has improved between the SV-100 and the YSV104. The electronics in good; it provides enough controls to prevent the sound from saturating, which can be electric violins common problem.
With a solid body instrument, you don't risk any Larsen or feedback when playing loud. And this is something you get with any SV Yamaha violin, irrespective of the price tag.
Piezo Pickups amplify the sound in the bridge
Piezo pickups are powerful and colorful. They lack some acoustic-like type of aspects to the sound. Overall, the sound is excellent for rock, jazz, blues, but a bit less if you have acoustic, classical music in mind.
In the lower range (G string), the sound can be a bit bland and fuzzy if you play too hard. Be gentle on the G string on an electric violin. This is the register where more expensive instruments can do better. Here, piezo pickups show their limit as a solid-body construction. The violin clearly lacks a bit of a hollow acoustic chamber (like the SV250).
In the medium range, the sound is richer, more precise, beautiful.
In the high range, the Yamaha Silent violin can be bright without being too harsh. There is bow noise, for sure, but at an acceptable level.
The sound can be adjusted with tone control on your amplification but not on the violin (SV-100) or the box (YSV104).
There are three presets for reverberation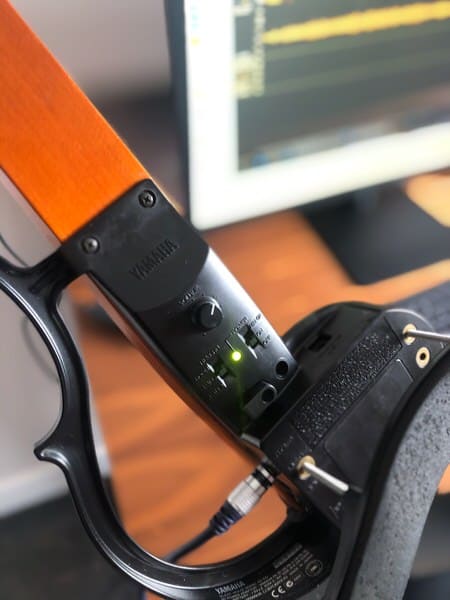 The provided reverb presets are good and interesting to use.
Without reverb, the violin sounds really dry because it doesn't even have a natural room echo. It is not exciting nor agreeable to practice with such a preset, but it gives a pure sound if you want to add the effects you wish to down the line. You can use that pure dry sound and process it later on your amp or in GarageBand or Logic.
The Room Reverb preset is a fine one, and I always play and practice with that one. Very natural and adds life and flesh to the sound.
Hall 1, Hall 2. The Hall 2 preset is a bit too much for my taste. Yes, the sound is big, and you feel like you play Bach's Chacone in a Cathedral, but… It can be great to impress some friends and to have fun. I wouldn't recommend getting used to that sound, though. It is too forgiving sound-wise and intonation-wise as notes overlap each other creating an organ-like sound. I often use Hall 1 preset when I want to treat myself with a bit of a forgiving sound…
I typically practice with headphones, even though we can't adjust the tone for the headphones in these series. But I found the built-in EQ setting ok.
So overall, the sound is good, especially for the price. We will see later how it changes with our technique: we will concentrate on playability.
Here are samples of different types of sound, from dry, to room, to Hall 1 and 2:
Ease of use on the road: a Yamaha violin is robust
I practice with headphones, but many times, if I just try out an idea or a pattern, I don't even bother taking out the headphones and switching on the violin: I play it acoustically. Except for the G string which is dead, it is possible to practice acoustically, but not for long periods of time.
The violin is sturdy and robust: it gives a great impression of solidity. It has been with me for many years without any problem. The fine-tuners still work great, the pegs work as intended, the tuning stability is still on par. The ebony fingerboard of my SV-100 is in good condition; I can't say for the composite fingerboard of the YSV104, but I trust Yamaha here. The plastic and synthetic resin that makes the rest of the violin are indestructible.
So as long as you bring your headphones with you, you can play anywhere. The battery life is good. If you play a lot, you can use rechargeable batteries, which I always do. I have never used the DC input with a 12v power supply because I do not want two wires coming to my violin. So I have always practiced on (rechargeable) batteries. Such functionality is not provided anymore on the YSV violin, even on the control box.
Playability of an electric violin
Perfect bow angles, frame outline, strings vibrating length make a Yamaha violin suitable for starters: they won't learn in the wrong way whatsoever.
The sound is good, as I have said, especially for the price. But electric violins in general and these, in particular, don't like too much bow pressure. The contact point between the bow and the strings shouldn't be too close to the bridge either. The sound will quickly saturate or clip if you want to play as you play loud with an acoustic violin.
The SV-100 (and SV200) come heavy at 600 grams (1 lb); that can be an inconvenience after hours of play. The YSV104 has solved the issue with an outside soundbox. The weight has come down to a mere 460g (16oz).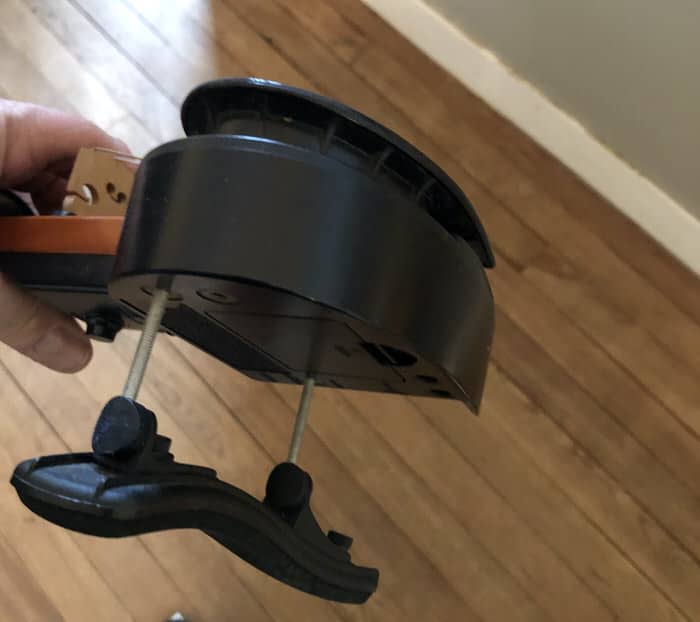 The chin rest was a bit flat on the SV-100, but it has been corrected on the YSV: the design is more profiled and a bit less flat.
The SV-100 had a special Kun integrated shoulder rest. It wasn't thick enough for my taste, and I had to find a longer thread rod that fits in the rest to get a suitable adjustment. Again, this has been corrected: all SV violins can accept any shoulder rest, including the one you have and love.
PROS
Great build quality
Very durable
Good sound overall
Good value for money
Any shoulder rest is adaptable on the YSV104 and SV200
CONS
You only get mini-jack output
Piezo pickup sometimes renders G string poorly
Weight: the SV-100 and SV200 are heavy at 600g (1lb)
Shoulder rest on the SV-100
Who are these electric violins for?
Even though I didn't own a YSV violin, I've had the chance to play one on many occasions. I would say that Yamaha positioned the YSV as a cheaper alternative to the classic SV-100, which was in return upgraded as the SV200.
This instrument provides a good overall package with outstanding durability and sturdy build, flawless playability, and good sound.
These instruments provide a good entry point to the world of electric violins; they are called SV for Silent Violins. They are intended to be practice instruments for classical violinists that need to play without being noticed. Classical musicians can venture with them on the other side of music: jazz and rock. So it is an excellent way to start, but it isn't the violin I would recommend for someone who plays professionally in a rock or jazz band. The sound is good for the price: for starters, practice at home or occasional gig, it is perfect. If you regularly play in front of a big audience, the SV250 will be the violin for you.
The gear and products I use and recommend for my electric violin
First, If you want to hear your electric violin, you need to either use headphones, plug it into an amp, or an audio interface.
The small amp I use and recommend if you want to practice at home is the great Yamaha THR10 from the THR series. It is portable and not expensive, easy to use and set up.
If you want to record yourself or plug your violin into headphones, your laptop, or your phone, a good and cheap digital audio interface I can recommend is the iRig HD2, which is more and more affordable on Amazon.
I typically use Thomastik Dominant strings on my electric violin. They come quite cheap on Amazon considering their quality and sound. Synthetic core strings work well on Yamaha electric violins.
Lastly, I use mainly Dominant rosin as well on my electric violin, as it has been designed to go with Dominant Strings.
You can check out in detail all the stuff I have tested and used on my recommended product page where I go into more details.