It is some kind of a touchy subject. Strangely, great violinists avoid the topic with discretion and modesty. It is as if a paparazzi asked to take pictures of their dearest child. The truth is, most of these instruments are truly priceless. Maybe worth millions of dollars. But they are also mere pieces of wood. Great Italian violins are a lesson for human modesty. As the late great Ivy Gitlys puts it: "now you can go to the moon, but nothing has surpassed a 300-year-old violin". And he adds, talking about his Stradivarius: "It is not a transient in my life, I am a transient in its life".
Table of content
What violin did David Oistrakh play?
David Oistrakh used to play a violin by Stradivarius.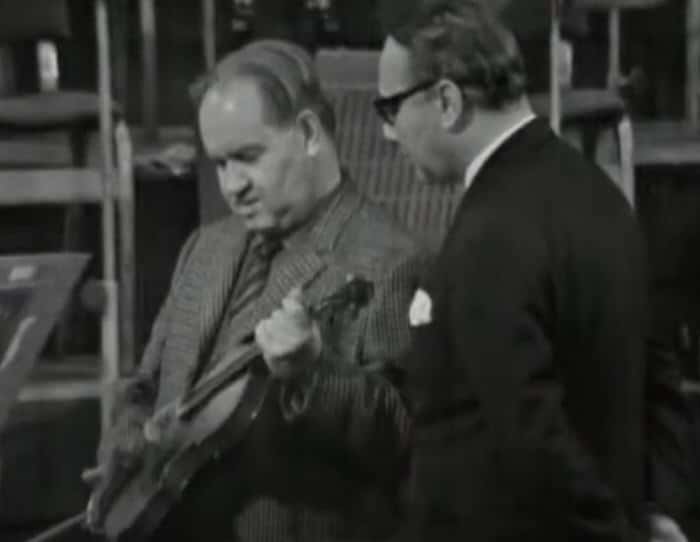 David Oistrakh used to play the "Marsick" Stradivarius. This great instrument is named after the French teacher Martin-Pierre Marsick from the Conservatory of Paris, admired by Vieuxtemps himself. With modesty, David does not say any price for his violin. He says with great distraction: " it is worth everything to some, and is worthless to others. " I don't know if it is the best Stradivarius of all times, but, in the hands of the greatest of all, King David, that small piece of wood certainly emitted the most incredible sounds ever heard by human ears.
What violin did Jascha Heifetz play?
Jasha Heifetz used to play a violin by Guarnerius del Gesù, his main instrument.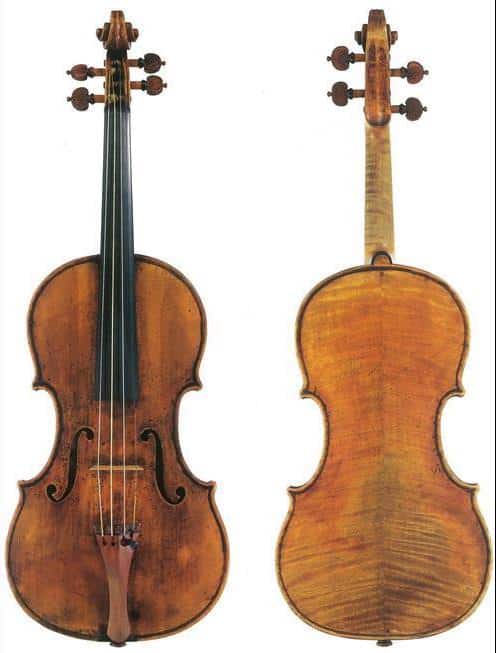 The "David", famous violinist Guarnerius del Gesù in 1742. This violin has accompanied the career of Jasha Heifetz until the end. The great violinist Ferdinand David purchased this violin from Jean-Baptiste Vuillaume in the course of the 19th century (source).
Heifetz used to play other instruments, the "Dolphin" Stradivarius and a Tononi made in 1735. He played on the Tononi in 1917 to make his Carnegie Hall début.
What violin did Yehudi Menuhin play?
Yehudi Menuhin used to play the Soil Stradivarius, one of the best instruments ever. This violin is considered one of the finest by the great Italian Luthier Antonio Stradivari, from his golden period. The "Soil" violin is named after the Belgian Industrialist Amédée Soil. The french luthier Jean-Baptiste Vuillaume also owned this instrument. Its red varnish is beautiful and forms something that resembles a sunburst. That is why the Soil name was sometimes interpreted as a derivative of Sol, Soleil (Sun). The back is formed by two maple pieces "with the flames of the grain joined, descending from the edges toward the center" (source). The Soil Stradivarius was maybe an influence for the "Red Violin" film, and not only the "Huberman" Strad from Bell – Nicolò Bussotti from the film is a fictional luthier.
In the next video, we can see the great Yehudi playing Paganini on the Soil. A heart-breaking experience as we see these marvelous instruments in the hands of such a giant. In color, the red varnish shines particularly.
What violin does Itzakh Perlman play?
Perlman plays a Stradivarius from 1714, known as the "Soil" Stradivarius.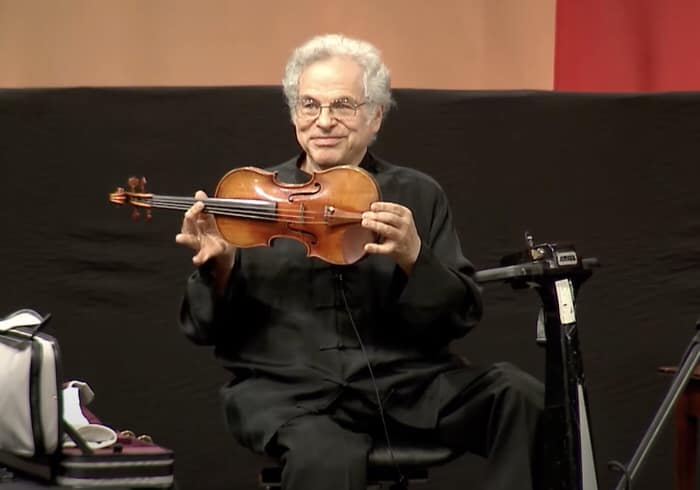 This is the violin that was previously played by the late great Yehudi Menuhin. Read above for more details.
What violin does Hilary Hahn play?
Hilary Hahn plays a Vuillaume (like Anne-Sophie Mutter).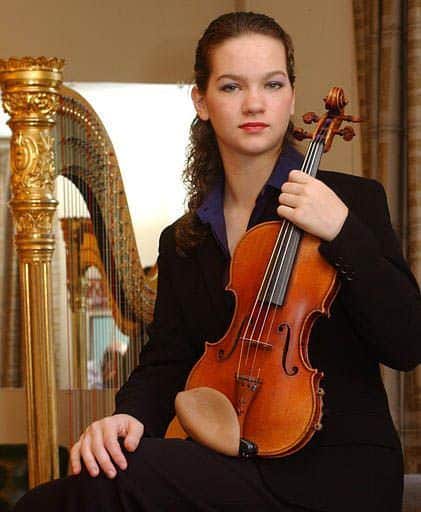 Hilary Hahn says she plays a French violin made in 1864 in Paris: it has to be a Vuillaume. And what is interesting is that she made a perfect copy of Peter and Wendy Moose (in Munich) in 2005. She says that she indifferently brings one or the other. It is not a secondary violin for her. It is important to notice that Hilary is an incredible violinist with a tremendous career and she doesn't need the most expensive Stradivarius or the most expensive strings. She often plays a modern instrument with Dominant strings and yet is at the forefront of what is the best today.
What violin does Joshua Bell play?
Joshua Bell plays the "Huberman" Stradivarius.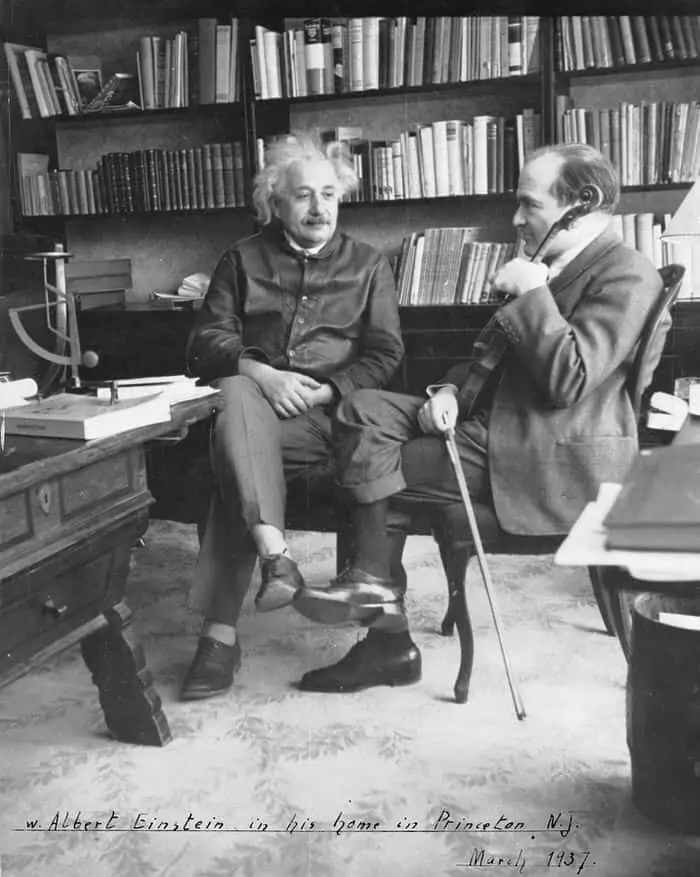 Violin stolen from Bronislav Huberman, made in 1713 by Stradivarius. This violin was stolen from him at Carnegie Hall. Huberman was playing his Guarnerius del Gesu when his Stradivarius was stolen backstage. He was found after fifty years after the thief, who was a local violinist, confessed on his deathbed. Joshua Bell was fortunate to buy this great violin in 2001. The color of the varnish goes towards red accents. That is why some people say it was the influence of "The Red Violin" film, though it is debatable as the "Soil" presents a sunburst aspect as well. Joshua Bell is the actual musician who performed for the soundtrack of the film.
What violin did Nathan Milstein play?
Milstein used to play a Stradivarius from 1716. This instrument was called the "Goldman" Stradivarius when Nathan bought it back in 1945, named after a previous owner. Nathan named it the "Maria Teresa" violin after his wife and daughter. After Nathan Milstein's death, it was eventually sold for an undisclosed price and is now known as the "Milstein" Stradivarius. One of the most legendary.
What violin did Ivry Gitlis play?
Ivry Gitlis used to play a Stradivarius from 1713. I was called the "Sancy" Stradivarius, but is now called the "Gitlis"… Ivry says that it took him a year and a half to get to know the instrument. Then he's always found new things in it. A Stradivarius doesn't explain everything soundwise. "Whatever you give to it, it gives right back. It is an instrument, a miracle piece in a way. It doesn't share its personality to anybody".
What violin does Isabelle Faust play?
Isabelle Faust is a German violinist. She plays a Stradivarius from 1704, named "The sleeping beauty". This violin is on loan from L-Bank Baden-Württemberg (source). She also plays Baroque violins and bows.
This great Stradivari has belonged to the same family in Germany for almost 300 years. Maybe it is Franz Wolfgang von Boeselager who bought it in Italy, during his travels, in 1724. It has a 1724 sticker inside it. But it is a consensus to believe that the violin has been made in 1704 and remained in the possession of the great Cremonese luthier (Stradivari) until he sold it and put a sticker inside it. It is maybe because it was left unattended for so many years, at Stradivari's shop, or in the Boiselager family's castle that it got its "sleeping beauty" name. It was eventually sold by the family in 1996 to the Baden-Württemberg Bank which lent it to Isabelle Faust.
What violin does Augustin Hadelich play?
Augustin Hadelich plays the 1744 Guarneri del Gesù "Leduc, Ex-Szeryng", loaned through Tarisio Trust. That particular violin has been for more than 40 years the violin of Henryk Szeryng. "It has a deep sound in the lower register but also a lot of brilliance in the upper register".
What violin does Maxim Vengerov play?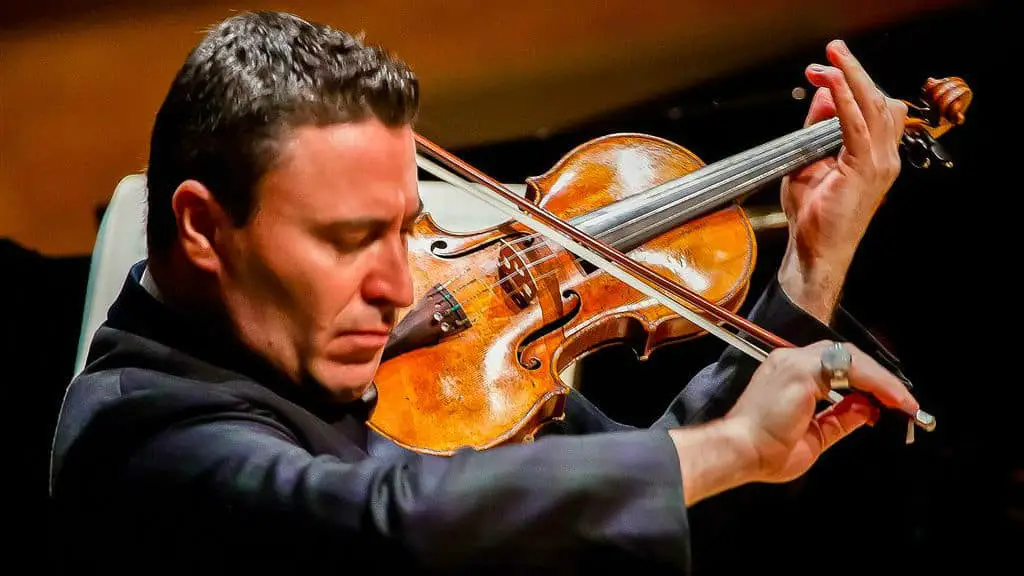 Maxim Vengerov plays the Kreutzer Stradivarius from 1727. It is a late violin in Stradivari's career. It is clearly made by a much more mature hand. The carving and arching are typical of that period. The varnish is again particularly red. The sound is incredibly full, and one cannot describe it in mere words in a blog post: go and listen to Maxim Vengerov to hear this masterpiece played by a true master.
The depth of its sound is impossible to describe…

Maxim Vengerov
This instrument has been in the hands of musicians for the majority of its life (as opposed to collectors). It was bought by the great concert violinist Rudolf Kreutzer. This great violinist was also a teacher at the Paris Conservatoire and head of the French school of violin playing. it is of course the dedicatee of nothing more than the famous Beethoven's Kreutzer sonata. It later belonged to Fritz Kreizler. Maxim Vengerov bought this incredible instrument in 1998 for 1,5 million dollars. It is still in great condition today. This article from The Strad is a good read on Vengerov and Stradivari.
What violin does Andre Rieu use?
Check out the price of the 10 most expensive violins that have been sold at auction. Prices went through the roof! I have listed the most expensive ones.