There are so many rosins on the market now that it is almost impossible to choose.
It is of great importance because it is the conduit between the bow, the hair, and the violin's strings. It is right there; it defines the way the bow connects with the strings.
Beginners : Thomastik Dominant Rosin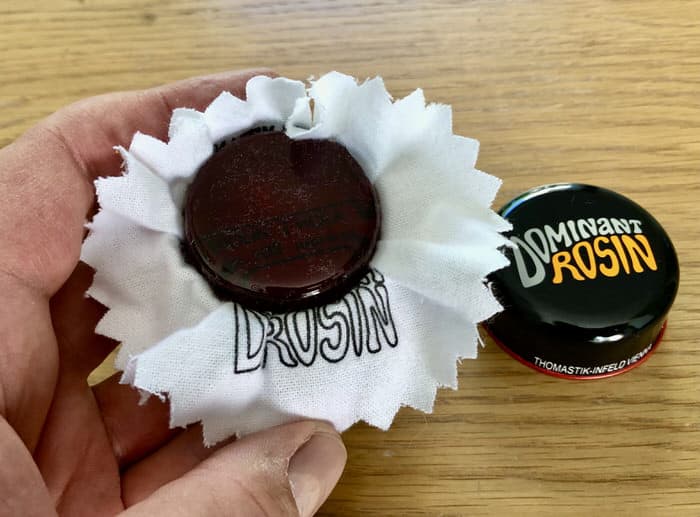 I do not recommend the cheapest products, nor have I used them.
I consider that we spend so much time learning a string instrument and trying to have a good sound that it is a shame not to give ourselves every chance.
For a beginner, I definitely recommend light rosin, and in particular the Thomastik Infeld Dominant Rosin. It is not the cheapest rosin on Amazon right now, but definitely worth the money. This rosin is made in Austria, like the great Dominant strings. And as a cake can last at least one or two years, it is a good investment for a student to choose good light rosin. It is made of Larch, not Pine or Spruce. It provides great value as well for advanced and professional musicians.
This rosin is specially designed to work in tandem with Dominant Strings, which are classic. This rosin is well balanced and not hard: it is considered medium rosin, which can adapt to many types of violins and playing styles.
Do not hesitate to try them in conjunction with dominant strings. They are on my no-brainer list.

This rosin is natural and made out of fine Larch resin and wax. It has been designed to provide the perfect friction that adapts to synthetic core strings and gives the best torsional force to grip and vibrate them. This rosin does not provide too much dust. I always use that rosin on my electric violin with Dominant strings (and a dedicated bow, of course).
Intermediate to advanced players: D'addario Kaplan Dark Rosin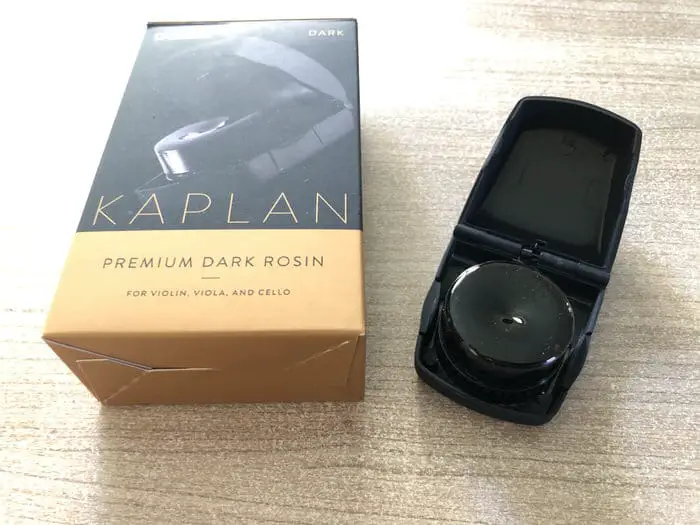 This is my favorite rosin on Evah Pirazzi strings for my main violin. My main bow, a gorgeous Hans Karl Schmidt, is always rosined with a fresh cake of Kaplan Dark Rosin.
Dark rosins have a different strength than light rosin: they are typically more sticky. They are usually more sticky than light ones and can be preferred for viola or even cello. But Kaplan Dark is just incredible with top-of-the-range synthetic core strings like Evah Pirazzi.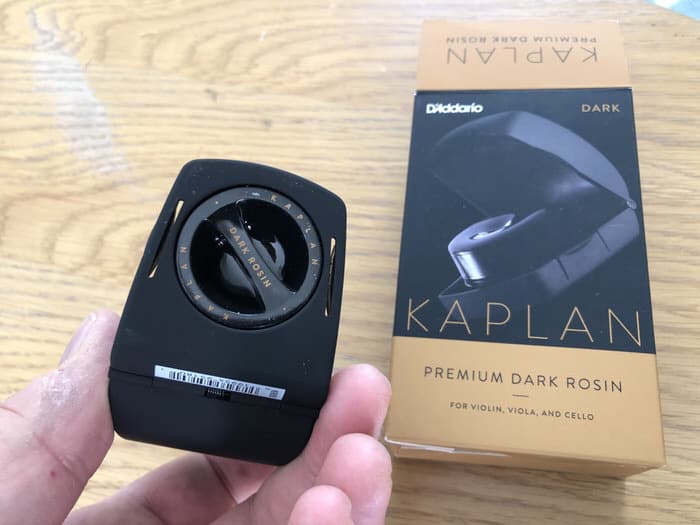 I do not use D'addario rosins but Kaplan Rosins (sold by D'Addario) as they are of more excellent quality. I have tried Art Craft and Premium Dark. They are low dust and moderately sticky formula, made with the original legendary Kaplan recipe. They can be packaged in a pouch or in a luxurious case (that can be opened with one hand, nice touch). A dial at the bottom of the case allows you to rotate it so you can wear it out evenly. Just like Kaplan strings, Kaplan rosins are crafted in New York.
For high-quality rosin, they are a steal on Amazon! A fresh cake every six to nine months is a perfect tool to help you perfect your sound. And at that price, you shouldn't risk having dried-out rosin and a deteriorated tone. Each time you change bow-hair, change your rosin: buy it on Amazon, refresh it using 400 grit sandpaper, and apply it correctly on your bow as I have detailed in this post.
Advanced and professional players: Evah Pirazzi Gold Rosin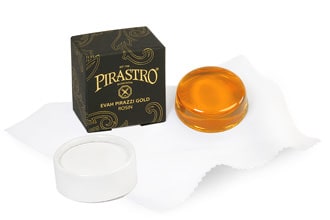 At that level of mastery, I expect musicians to try by themselves and experiment with rosins. But I have seen many good professional violinists that don't give details enough credit. As I can understand small broken pieces of old rosin in the case of young students, I can barely believe many orchestra violinists do the same. So any good violinist, not only soloists, should give attention to small facts that have great consequence sound-wise when they add up. A great rosin is a perfect place to start, especially considering the price.
When we consider how much energy and money has been dedicated to string designing all those years by string manufacturers, we should try the rosin formulas they have developed in conjunction with their strings.
And Pirastro, as a tremendous historic brand, has come up with several top-of-the-range rosins as well. They have developed a type of rosin to go in tandem with each type of strings they offer:
Evah Pirazzi Gold for Evah Pirazzi strings,
Oliv Rosin for Oliv strings (and Evah Pirazzi),
Eudoxa rosin,
…
You get the point. Each type of string has its dedicated rosin. There must be some marketing on the makers' part, for sure, but I tend to trust the big brands. And as rosin cakes are relatively inexpensive, they are worth a try every time a bow is re-haired.
I have tried the Evah Pirazzi Gold Rosin, and I have been quite impressed with it. It is a bit harder than the Oliv variant, but not too much. It gives excellent bow response, little to no dust, no bow noise. Next time I re-hair my Hans Karl Schmidt, I will rosin it with this rosin and give you a long-term review as I have done with the first two. Of course a premium rosin comes at a premium price. But considering that you need to use less for a given result, it doesn't come as expensive. And what price can you put on a magical violin sound?
400 Grit Sandpaper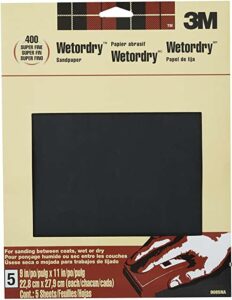 While you are at it, grab some 400 grit sandpaper to freshen up your rosin cake once a week (or when it's new), and apply rosin on your bow without effort and in the most effective way. Put the sandpaper on a flat surface. Do three or four strokes with the rosin cake to open it up and give fresh dust and smell. Now your bow will gather its dust easily.